Site and Location
The site for the 2018 Upper Delaware BioBlitz is the Gales Property owned by the Norcross Wildlife Foundation. It is in Starlight, Wayne County, PA at the junction of the East and West Branches of the Delaware River.
The site is easily accessible via PA State Route 191 at the junction of PA State Route 370. It is about 2 miles south of Hancock, NY which is on NY State Routes 17 and 97.
The 65 acre site is bounded by the West Branch of the Delaware River, the Main Stem of the Delaware River, PA State Rt. 191 and Shehawken Creek.
The site has open and wooded areas, flowing water, spring fed ponds and wetlands. The portion of the site bordering the Delaware River is within the NPS Upper Delaware Scenic and Recreational River corridor.
The site is an excellent representative of the biodiversity of the Upper Delaware Watershed. In 2013 the 9 teams of the Upper Delaware BioBlitz surveyed the site and found 1,022 unique species including 60 Wayne County, PA first occurrences.
It is accessible to both the surveying teams and the general public and has areas for the teams to camp and parking areas for the public.
The steering committee will have facilities on site such as electricity from a portable generator, internet access, potable water and sanitary facilities for the teams of scientists as well as the public.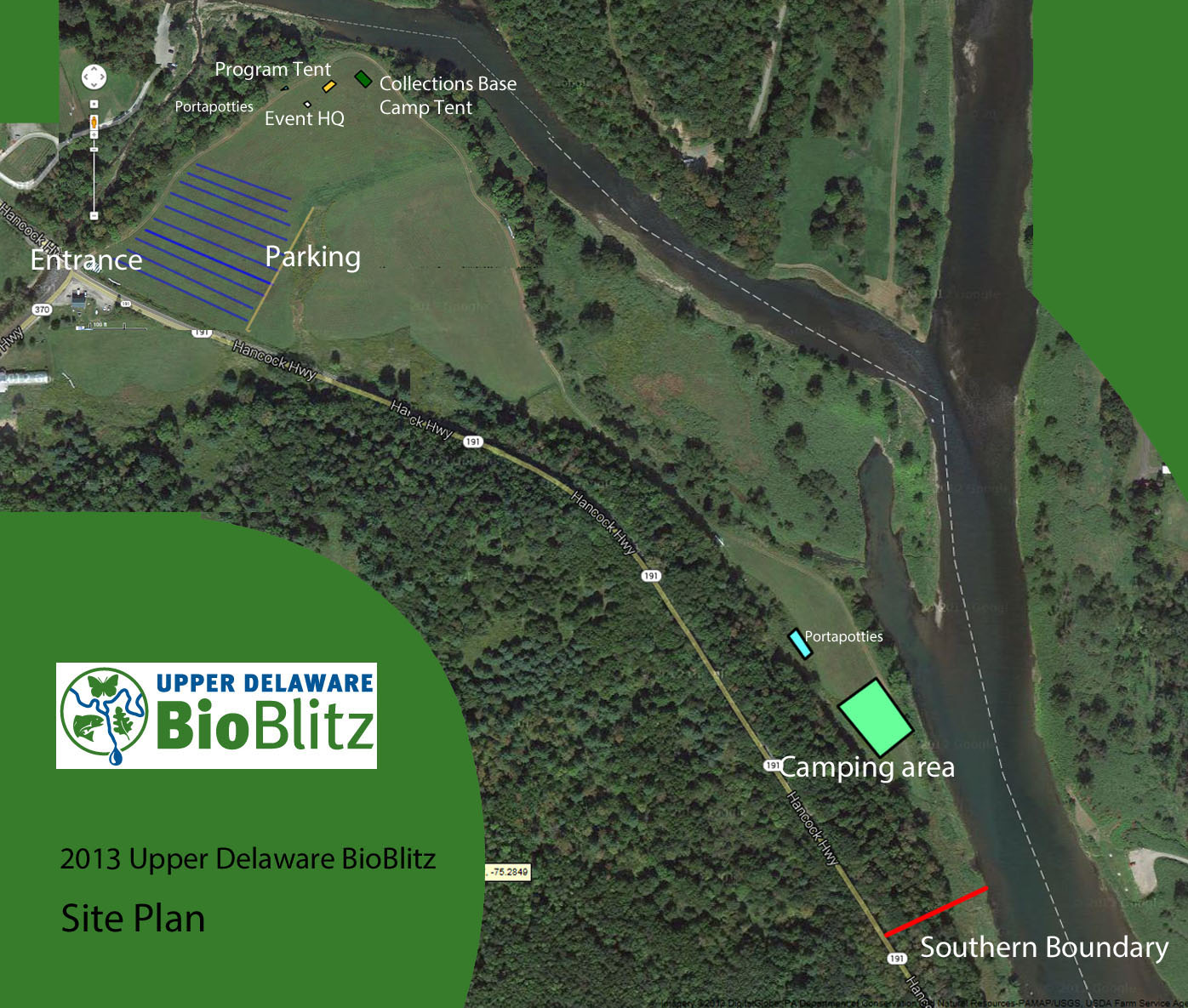 Downloadable Site Map
Driving Directions
Follow this link for a Google map
to get directions to the site. Click on directions and then enter your location in the first field of the map that pops up. The geocoordinates for the entrance to the site are: 41.94036, -75.28872
The site is easily accessible by car. It is located on PA State Rt. 191 which connects Honesdale, PA and Hancock, NY. Visitors from the west can get to the site via PA State Route 370 and from the north, east and west via NY State Route 17.
Below is a printable road map of the access roads leading to the public parking at the site.